Had a small celebration of my birthday after the class :)
My coursemates bring me to Four Happy Season Cafe. FYI the Four Season here is not like the Four Season Restaurant at KB hor! The Four Season Restaurant over here is really Four Season. haha! You can choose which season to have ur meal, Summer, Spring, Winter, and Autumn!
Tadaaaa~ It looks like this :D haha!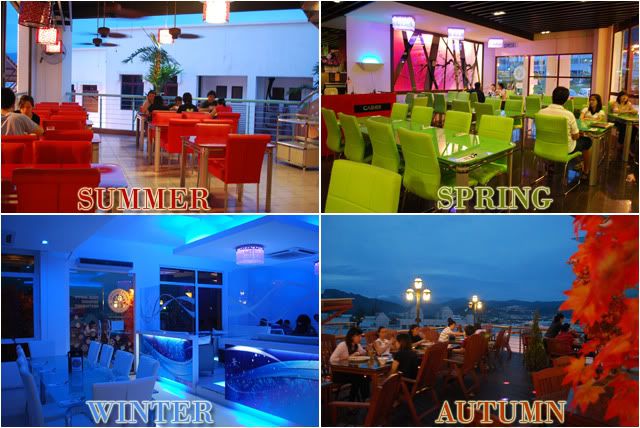 & we had the celebration at Winter! :D It's really really cold fyi.
She's Peakhui, the chubby coursemate! :)
& a very sour drink which belong to Amelie. haha..
Joevy the leng lui :) haha
Okay, it's a must to take photo of a special and beautiful drink! :D
Another one! hahah.. Stephy, trying to catch a nice angle.
Meini the Minnie mouse! haha :D
Joevy & Dann the blur one.
She always get a nickname for people onee....
Almost everyone get one from her adyy!
My Latte layerd with Chocolate Syrup topped with Coffee Jelly :)
Cost RM6.80
Its taste sooooo nice! I likey!
Opera cake.
It costs RM9, but it's worth! Delicious mmmm~
Me & the cake :)
Thanks Zixuan the photographer!
Groupmates :D
Thanks beloved groupmates! :D Had a great small celebration! Appreciate lots! :D
Birthday Cake from my housemates :) haha!


Spent the last few hours with them.
They switched off the light suddenly and brought in the cake.
And they used the torch light as the candle cuhs they dont have lighter, all non-smoker :)
Singing along the birthday song. hahaha! I was surprised and dont kno what to do.
Just to listen to the birthday song they sang to me :)
DonaShi!! :D So kawaiii~~
& they taste really nice too!
This is an earlier celebration, the day before my birthday :)
I never noticed that until the time we were having our dinner.
They suddenly took out a Big Apple plastic bag and I was like, "waaahhh..." haha!
Just what I want to eat, Donashii :D
Wanted to buy them when Piyi, Neng and me were at Jusco that time.
Then they said that, "Aiya.. we buy it for you when your birthday lah!"
"Okay!" hahaha xD
But too bad, Piyi and Yaapin was not here with us.
I miss both of u girls lots! Especially you laa yaapin! Never meet you for so dam long ady!
Thanks for all the wishes!
Thanks dad & mom! Thanks my sisters!
Thanks all my friends, coursemates! I love u guys so much! :D
Thanks for the DonaShi! Thanks for the cake! Thanks for the birthday treat!
Thanks for the surprises! Thanks for the presents!
Thanks for everything people! :D Cheeeerrss!